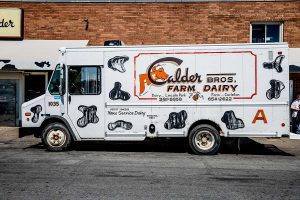 Reminisce no further, Calder Dairy currently has HOME DELIVERY routes in the following counties Monroe, Wayne, Washtenaw and southwestern Oakland (limited to South Lyon and New Hudson right now, but hoping to expand as demand grows)!
To become a home delivery customer please call our Dairy Store at (313) 381-8858 during office hours, 9:00 am to 5:00 pm Monday through Friday.
You will set up a standard order for each week and you will receive your bill with our newsletter on the back at the beginning of each month. There is a nominal $3.00 surcharge for delivery service.
If you need to make a change to your already scheduled delivery, you have 3 easy options:
– Sign into the online Home Delivery portal & make the change here: Home Delivery Portal
– Call the Dairy at (313) 381-8858 between 9:00 AM and 5:00 PM Monday-Friday at least 1 day prior to delivery
– Leave a note for your driver
Call our Dairy Store to set up home delivery today! (313) 381-8858